RECYCLING
Recycling is often overlooked as easy, but there are many complexities surrounding the what's and hows.
With this guide, we hope you can begin your steps to recycling properly.
Habits to Practice
Keep food & liquid out of your recycling
Not emptying food or liquid from your recyclables contaminates the items, therefore deemed unrecyclable. Carefully empty and clean your items (it does not have to be squeaky clean)
Empty and rinse out drink and food packages. Any remnants or remains can leak onto other materials, making them unrecyclable. If it's Styrofoam, please toss it with the trash and not the recycling bins.
No loose plastic bags & no bagged recyclables
Do not bag your recyclables. Empty items directly into your recycling bin, ensuring the items get a second life. If you do collect your recyclables in a bag – simply empty the items directly into your final recycling bin and reuse the bag
Do not line your recycling bin with plastic bags as they are not recyclable. You should avoid using them to bag your recycling items.
Companies & Contact
CIC Environmental Services Sdn Bhd
Recycles waste oil, waste chemical, and sludge.
Daikyo Environmental Recycling Sdn Bhd
Recycles white paper, magazines, nylon bags, E-Waste, metal (iron, copper, brass), recycle bins, aluminium.
EnEvo Sdn Bhd
Recycles only white paper.
Contact
Fax
Email
Website
Contact
 +673- 333 0266 / 333 0267 / 871 6573
Fax
3330268
Email
cic-enquiry@cicgrp.com
Website
Contact
Fax
Email
Website
Contact
 277 3380 / 718 2288
Fax
277 3381
Email
daikyorecycling@gmail.com
Website
422 0838 / 862 8930
Email
info.enevo@gmail.com
Website
Global Green Recycle Sdn Bhd
Recycles paper material (paper roll, newspaper, card boxes, magazines, unwanted children books, office paper, office shredded papers, etc).
Kawan Bumi Sdn Bhd:
Recycles paper (newspaper, old corrugated cardboard, mix paper, book, magazine, shredded paper), plastic (HDPE/ PET), and E-waste.
LT & J Sdn Bhd
Recycles metal (Iron, steel, alloy tin, copper, copperwire, brass, alloys, aluminium), and car batteries.
239 0101 / 719 6363 (Kelvin Bong) / 884 4752 (Long Chong Min)
Email
Website
Contact
Fax
Email
Website
Contact
267 0194 / 875 7678 / 717 6022
Fax
2453651
Email
kawanbumi@gmail.com
Website
818 4994 (Pg Ibrahim) / 861 6170
Website
Ridhana Sdn Bhd
Recycles metal (iron, steel, alloy tin, copper, brass), aluminium, and car battery.

Rennah Services
Recycles scrap metals iron, copper, brass, steel, alloy tin, aluminium, waste oil, waste chemical sludge.
Shaliz Waste Recycling
Recycles used cooking oil.
835 7777
Email
ridhanasdnbhd@gmail.com
Website
Contact
Fax
Email
Website
Contact
333 1282 / 334 0245 / 334 0248
Fax
3331283
Email
Website
266 2529 / 876 6629
Email
swrbrunei@gmail.com
Website
88 Charcoal Company
Recycles Green Waste (Timber, branches, leaves).
Contact
Fax
Email
Website
Contact
261 0234 / 719 8377 
Fax
2610266
Email
88tradingco@gmail.com
Website
What can be Recycled
What to/can be recycle(d) based on our local recycling companies
Metal
Plastic
Paper
Industrial Waste
Other
Iron
Steel
Alloy Tin
Copper
Brass
Aluminum cans
Plastic bottle
HDPE
PET
Nylon Bags
White paper – White printing paper – Mix paper
Newspaper – Magazines
Cardboard boxes – Old corrugated cardboard
Waste oil – Waste chemical – Industrial wastewater – Sludge – Drilling chemical – Flammable liquid – Contaminated soils/ rags
Used tyres – Pyrotechnics – Fluorescent wastes
Medical wastes – lab waste
Used cooking oil
Car battery
E-waste
Green waste – timber – branches – leaves
Trash Myths
Not Recyclable
Tv and laptops do not belong in waste bins. Recycling company, Daikyo Environmental Recycling Sdn Bhd & Perusahaan Hj Yusof bin Hj Tengah dan Anak-Anak do accept E-Waste. Instead of recycling, you can try to donate and refurbish them to give them another life or can ensure they are properly recycled.
Batteries can injure workers and are a fire hazard/ cause a fire. Lithium-ion batteries and other batteries do not belong in recycling or trash bins. Recycling companies, LT&J Sdn Bhd, Perusahaan Hj Yusof bin Hj Tengah dan Anak-Anak, Ridhana Sdn Bhd, Suresh Guna and VN Recycling, do accept car batteries.
I Can Throw Anything in The Recycling Bin, the Worker Will Sort It Out
Doing so will slow down the recycling process and may pose a health and safety risk to employees. If you are not sure whether something is recyclable, throw it in the garbage to protect the acceptable recyclable items.
If It's Plastic, It's Recyclable
Garden hoses and strings should never go in the recycle bin. These items wrap around equipment and threaten workers' safety, machinery, and recycling centres. So make sure to go only in the trash
Lots of plastic are NOT recyclable, even if they have the recycle symbol
Since It's Plastic, I Can Recycle It
No plastics are created equal. Just because an item is made from plastic or contains plastic parts does not mean it is recyclable. No chip bags, juice pouches – just throw them in the trash.
Recycling Symbols
Plastic Recycling Symbol #1: PET or PETE
PET or PETE (polyethylene terephthalate) is the most common plastic for single-use bottled beverages because it's inexpensive, lightweight and easy to recycle. It poses a low risk of leaching breakdown products. Its recycling rates remain relatively low (around 20%), even though the material is in high demand by manufacturers.
Plastic Recycling Symbol #2: HDPE
HDPE (high density polyethylene) is a versatile plastic with many uses, especially when it comes to packaging. It carries low risk of leaching and is readily recyclable into many types of goods.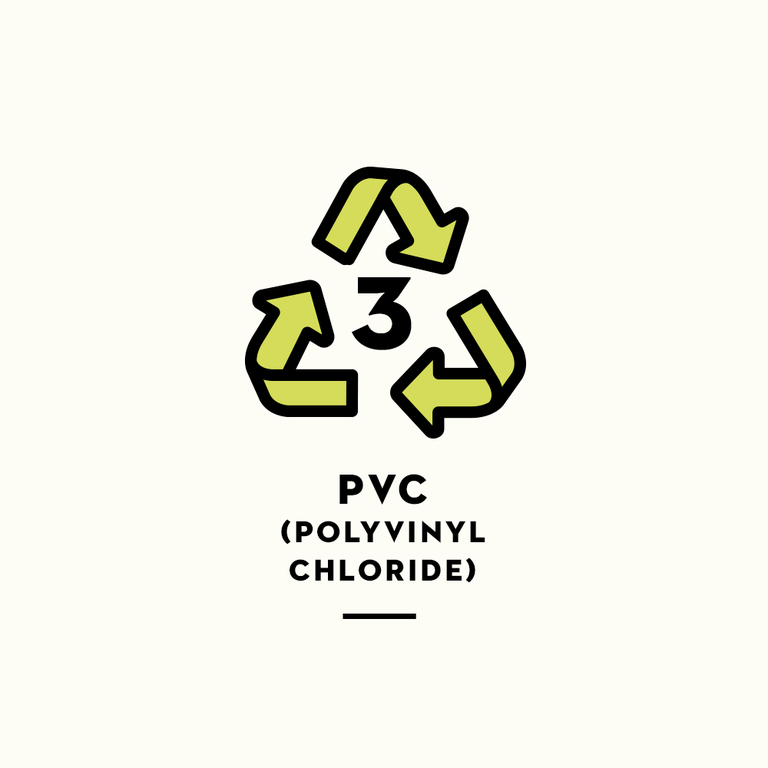 Plastic Recycling Symbol #3: PVC or V
PVC (polyvinyl chloride) and V (vinyl) is tough and weathers well, so it's commonly used for things like piping and siding. PVC is also cheap, so it's found in plenty of products and packaging. Because chlorine is part of PVC, it can result in the release of highly dangerous dioxins during manufacturing. Remember to never burn PVC, because it releases toxins.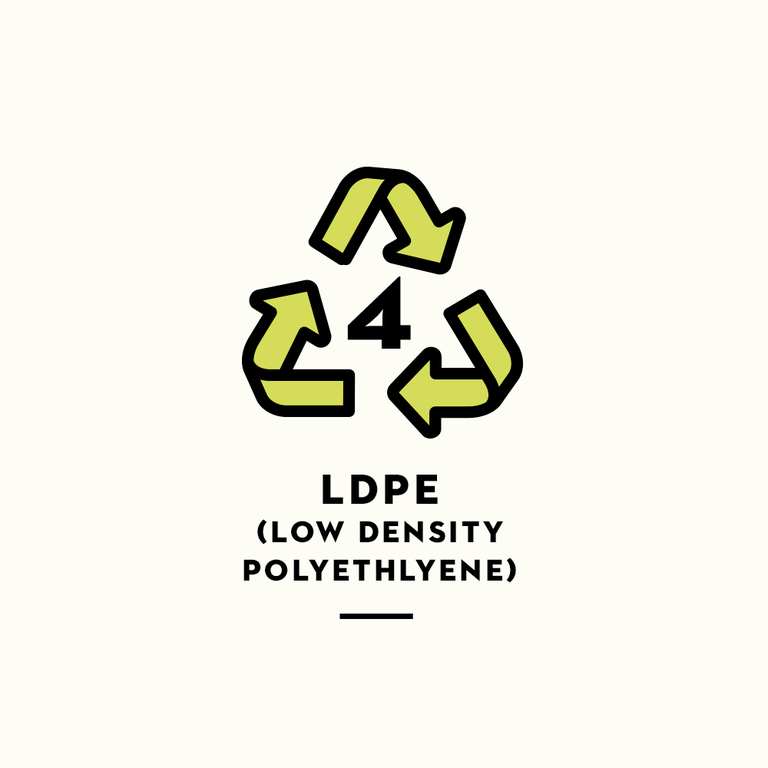 Plastic Recycling Symbol #4: LDPE
LDPE (low density polyethylene) is a flexible plastic with many applications. Historically, it hasn't been accepted through most American recycling programs, but more and more communities are starting to accept it.
Plastic Recycling Symbol #5: PP
PP (polypropylene) has a high melting point, so it's often chosen for containers that will hold hot liquid. It's gradually becoming more accepted by recyclers.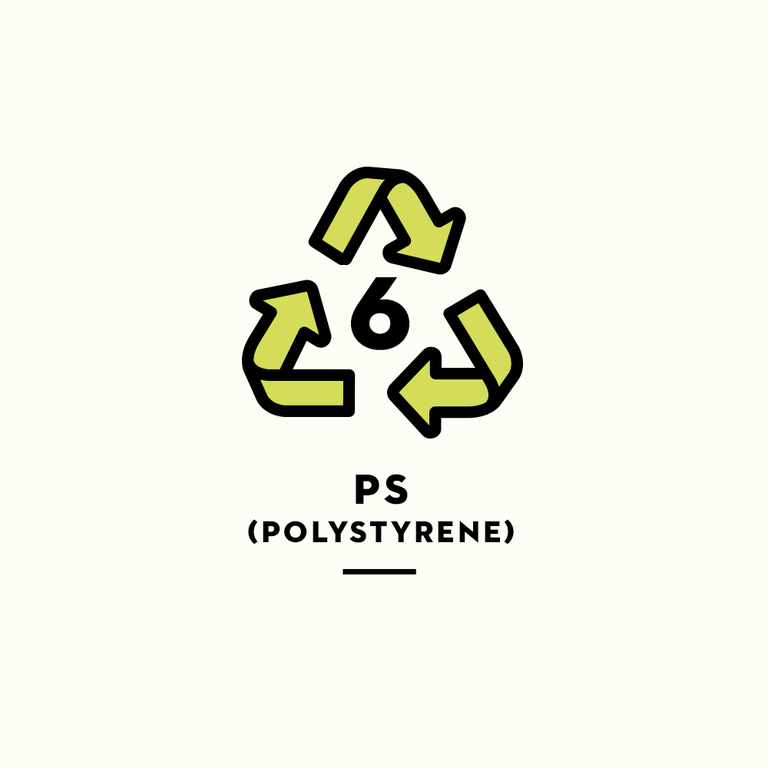 Plastic Recycling Symbol #6: PS
PS (polystyrene) can be made into rigid or foam products — in the latter case, it is popularly known as the trademark Styrofoam. Styrene monomer (a type of molecule) can leach into foods and is a possible human carcinogen, while styrene oxide is classified as a probable carcinogen. The material was long on environmentalists' hit lists for dispersing widely across the landscape, and for being notoriously difficult to recycle. Most places still don't accept it in foam forms because it's 98% air.
Plastic Recycling Symbol #7: Miscellaneous
A wide variety of plastic resins that don't fit into the previous categories are lumped into this one. Polycarbonate is number seven plastic, and it's the clear hard plastic that has worried parents after studies have shown BPA, one of its building blocks, is a hormone disruptor. PLA (polylactic acid), which is made from plants and is carbon neutral, also falls into this category
Nearly everyone has a trash can inside their room. To make recycling easier, you can set up a recycling bin next to your indoor trash can. It's presence will help remind you to doubletake and check whether or not the item you're about to throw away is recyclable.
While recycling is a great way to lower your carbon footprint and reduce household waste, it is not the only method.
Another way is to stop using or purchasing single-use items. 
Use reusable grocery bags rather than accepting or taking plastic bags. 
Set up a compost pile to recycle food waste into usable soil and fertiliser. 
Epicycle items like furniture, clothing and other household items that are not non-recyclable