For some, thrifting is an avenue to not only breathe new life into once used items, but also to help lessen the burden our planet faces.
Thrifting involves the purchase of second hand items, usually clothing, at a relatively low price with the proceeds normally going towards charitable purposes. It also has the added benefit of helping to reduce the number of unused items that go into waste bins.
This is in line with the 3Rs (reduce, reuse, recycle) which are synonymous with the efforts to help maintain and sustain a better environment for everyone.
The 3Rs also represent one of the goals set out with the establishment of Green Depot Brunei.
Founded back in December 2018, Green Depot was the brainchild of RECOVER and Green Brunei, and nurtured by Brunei Shell Petroleum Company Sdn Bhd (BSP) with support from Daikyo Environmental Recycling Sdn Bhd and Nextacloud Technologies Sdn Bhd.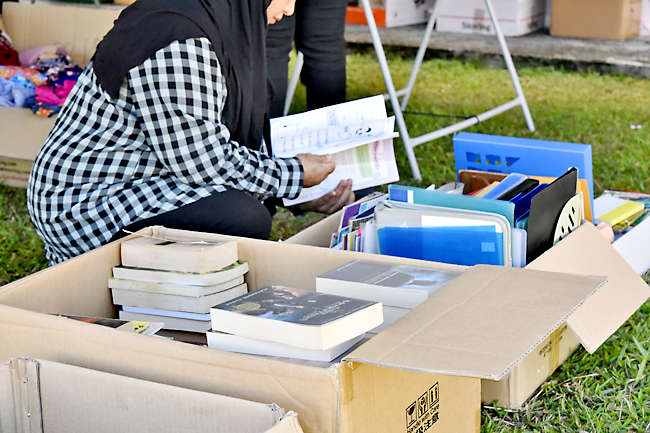 The centre has since operated five days a week to allow residents to recycle. Project Officer at Green Depot Fathin Khairunnisa binti Mat Japar said the centre has recorded a large number of recyclable materials over just a few short months since it first launched.
"For example, the amount of paper that we have received in the span of six months at the start of 2019 was well over 6,700kg. This year we achieved a larger amount, 9,994kg, within the same."
The centre also frequently receives various used items which are handed over by the public or through donation drives.
Fathin Khairunnisa noted that the used items that were collected and sold in the most recent thrift market included all types of used clothing, kitchen appliances, school supplies, and many more.
Proceeds received in the thrift market not only go into supporting the operation of the Green Depot, but also provide financial aid to underprivileged families and various agencies such as the local animal shelter, Love Paw Sanctuary.
"Many of the items that we received are normally filtered to ensure that they are fit to be recirculated back into use. We also have people coming up to us to hand over unused items that they would like to see put to good use again."
This, in turn, represents the foundation of the 3Rs. As such, she noted that in addition to the recycling efforts, thrifting has a positive impact on the environment as it helps reduce the amount of waste produced.
A frequent visitor of the centre who has regularly handed over not only recyclable materials but also used items since May 2019 is Ummi Laila Aqilah binti Abdul Mutalip.
"The Green Depot is a great initiative to help raise awareness on the importance of recycling, especially for Belait District residents. Not only is it easy to donate as the place is open regularly, but it also provides a benefit to the surrounding environment as the efforts made to recycling continue to grow," said Ummi.
This can help have a profound effect on the natural resources consumed, as materials can be continuously recycled reducing the need to take new materials from natural resources.
She said this has a positive impact not only on the environment but also financially as it creates less demand for recyclable products.
Thrifting also helps declutter the immediate space for those donating and can also provide a second life for used items, she noted.
"Some of the items that I have donated to Green Depot for the thrift market include books. Hopefully I will be able to drop off some clothing once I have sorted through. This can help ensure that things that we no longer need are able to be of use to someone else."
She encouraged residents, especially those in the Belait District, to make an effort to visit the centre once in a while as it is conveniently located. By visiting, they can learn more about Green Depot's effort and can be the first step in their effort to start recycling.
"Hopefully people will start recycling and donating used items so that no materials will go to waste. This can provide benefits to not only the individual but society," she added.
Credits: Finding new uses for once used items | Borneo Bulletin Online