A total of 68 bags of trash weighing 390kg consisting mostly of plastic waste as well as 297.4kg of recyclables were collected yesterday during a World Environment Day Clean-up organised by Green Brunei in the vicinity of the Yayasan Sultan Haji Hassanal Bolkiah Mosque in Kampong Bolkiah 'A'.
Over 50 volunteers took part in the clean-up campaign, which included Universiti Brunei Darussalam (UBD) students in their Discovery Year, Green Brunei, Brunei Kayak, local residents, the Department of Environment, Parks and Recreation (JASTRe), SB Kani Company, and the general public.
The volunteers were divided into three groups. One group cleaned up the river using kayaks, another collected trash in the parking lot and staff from SB Kani Company volunteered to cut the grass around the parking lot.
According to Project Leader Nur Farah Hana binti Muhammad Nawawi, the project aimed to support and raise awareness on World Environment Day as well as to educate the public on proper waste disposal.
"It is hoped that this project has increased the sense of responsibility in the community to keep the surrounding area clean. Improper waste disposal may lead to animals rummaging and scattering the trash," added Nur Farah Hana.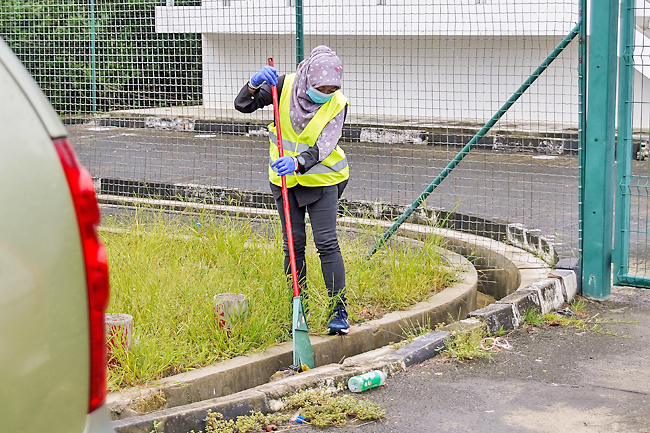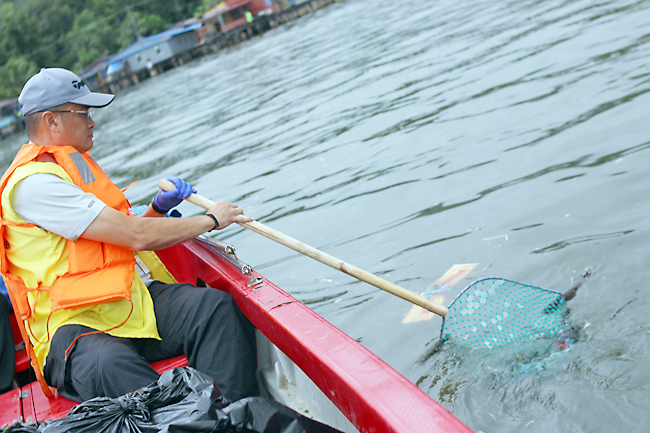 In addition to collecting trash from the vicinity, the villagers were also encouraged to bring their recyclables to be collected by Green Depot and Daikyo Environmental Recycling Sdn Bhd.
In view of COVID-19, Nur Farah Hana said precautions had been made to ensure the safety of volunteers and the community, including provision of face masks, gloves and sanitisers, as well as ensuring that each volunteer made use of their BruHealth app. Physical distancing was maintained throughout the event, where volunteers were not grouped together in one location and only packed meals were distributed as takeaway.
Also present at the event were Legislative Council members Yang Berhormat Nik Hafimi binti Abdul Haadii and Yang Berhormat Khairunnisa binti Haji Ash'ari, as well as Village Head of Kampong Bolkiah 'A' Shahminan bin Matzin. Founder of Kayak Brunei Major (Rtd) Mohd Akhmalnizam also took part in the event and provided four kayaks for the river clean-up.
According to Yang Berhormat Khairunnisa, the initiative was also part of the 'Ristaan Abadi' project under Yayasan Sultan Haji Hassanal Bolkiah, where Green Depot had been set up in Kampong Bolkiah 'A' to spread awareness about environmental sustainability, specifically focussing on waste management.
Credits: 68 bags of trash collected in clean-up initiative | Borneo Bulletin Online