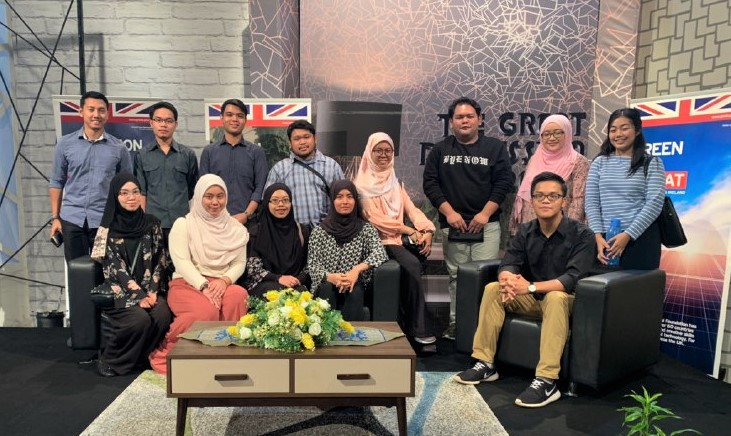 Universiti Brunei Darussalam, UBD's undergraduates doing Community Outreach Programme at Green Brunei attended Finals of The Great Discussion last Thursday, 30th January 2020 as part of their study as well as expanding their knowledge on the topics being discussed, mainly on Climate Change.
Sengkurong Sixth Form Centre (PTES) emerged victor of The Great Discussion after defeating Sayyidina Ali Secondary School (SMSA) in the finals at Radio Television Brunei (RTB).
The champions received BND1,800, the championship trophy and certificates.
Meanwhile, the Best Panellist was awarded to Awangku Md Nukman Syawqi bin Pengiran Md Salimin from PTES, while the Best Moderator went to Mohd Na'iim bin Mohd Rafi of SMSA.
Deputy Minister of Education Datin Seri Paduka Dr Hajah Romaizah binti Haji Mohd Salleh awarded the prizes, alongside British High Commissioner to Brunei Darussalam Richard Lindsay.
The competition's format has changed from being a debate setting to a discussion setting. This allowed students to practise and develop their debating skills, while gaining experience discussing topics in a real life set-up, especially in the working world.
Participants held in-depth discussion on the topic, focussing on a climate change theme that coincides with the United Kingdom's (UK) hosting of the United Nations 26th Climate Change Summit (COP 26) in November 2020.
Among the topics were: Brunei Darussalam's ASEAN Chairmanship in 2021 to have a strong focus on climate change and sustainability; Protecting forests and biodiversity to be an important tool in the fight against climate change; and ASEAN member countries' economies directly impacted by climate change.
Deputy Minister of Education Datin Seri Paduka Dr Hajah Romaizah binti Haji Mohd Salleh and British High Commissioner to Brunei Darussalam Richard Lindsay with the Sengkurong Sixth Form Centre team:
PHOTO: AZIZ IDRIS
Richard Lindsay said that climate change is a common concern for all countries.
"It is an urgent and potentially irreversible threat and the UK is committed to cooperate at the widest level to tackle the global challenges today to build a more stable future for us all," he said.
He added that it is imperative to engage youth – who will be the future leaders – to start the discussion on climate change and the role they can play.
"The discussion must start now with today's youth, to tackle this global challenge to ensure our future generation lives sustainably in a cleaner and greener world," he said.
Judges included Legislative Council member Yang Berhormat Khairunnisa binti Haji Ash'ari, Sekretariat Tetap Wawasan Brunei 2035 representative Muhammad Aziman bin Haji Awang Nasir, Climate Change Secretariat Noor Dina Zharina binti Haji Yahya and UK Asean Business Council member Allen Lai.
The Great Discussion began with the preliminary rounds on January 16, followed by the semi-finals on January 21.
Students from Duli Pengiran Muda Al-Muhtadee Billah College (Maktab Duli), Meragang Sixth Form Centre, Tutong Sixth Form Centre, Sengkurong Sixth Form Centre and Sayyidina Ali Secondary School participated in the competition.
The event was co-hosted by the Department of Co-Curriculum Education at the Ministry of Education and the British High Commission in Brunei Darussalam, with support from CfBT Education Services and Standard Chartered Bank.
credits:https://borneobulletin.com.bn/ptes-reigns-supreme-great-discussion/