GREEN Brunei is inviting parents of children aged between 14- and 18-years -old to register their children for the first Climate Camp that will run from April 4-6.
The three-day, two-night camp will be held in Sumbiling Eco Village, Temburong, according to a press release.
The campers will enjoy fun and educational activities in an eco-friendly natural environment. Campers will learn about the many plants and insects found in and around the camping site, eat locally sourced food and practise recycling and composting.
The camp will be facilitated by members of Green Brunei and the local Iban community from Sumbiling Eco Village. The campers will be able to learn more about climate change through discussions and activities by Climate Reality leaders trained by former United State Vice President and environmentalist Al Gore.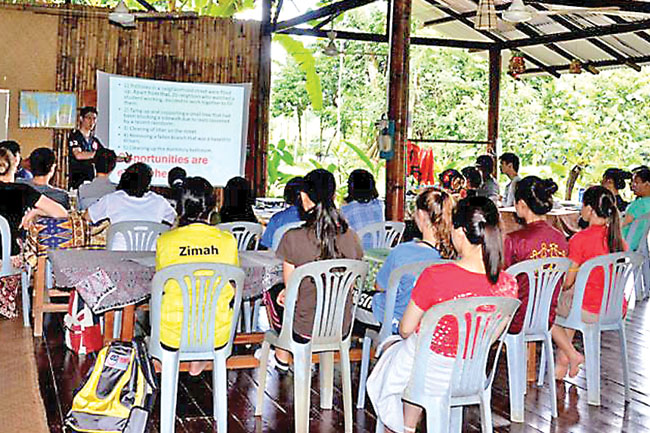 Photo taken during Green Brunei's Youth Environmental Leadership Camp in Sumbiling Eco Village. – CLIMATE CAMP
At the same time, the camp will also expose the participants to the many wonders of the Temburong rainforest through jungle trekking, night walk, water activities and trip to the Canopy Walk.
The campers will return home with stronger appreciation for nature, knowledge on how to conserve the environment, develop leadership skills and overall enjoy a good time.
Registration fee will cover boat ride between Bandar Seri Begawan and Temburong, accommodation, meals, trips, programme materials and certificate at the end of the programme.
Deadline to register is March 31 and can be done online via http://green-brunei.com/climatecamp. For any enquiries, the public may contact info@green-brunei.com.
Source: Borneo Bulletin