THE Endangered Wildlife of Borneo Art Festival was held recently at The Collective's Maker Space in Batu Bersurat.
It was organised by Green Brunei with the support of The Collective, a local creative arts organisation to highlight the plight of the endangered wildlife in Borneo.
According to a press release from Green Brunei, "the current wildlife endangered list was created in 1984 and is now outdated today. The lack of data poses a big threat to several species of flora and fauna, which are currently facing threats to their existence in Brunei".
The project to hold the art festival was led by a group of students from Universiti Brunei Darussalam (UBD) who are undergoing their Community Outreach Programme (COP) for their Discovery Year. The initial concept for the installations was a result of both the COP students and The Collective in trying to come up with a unique way to showcase the animals.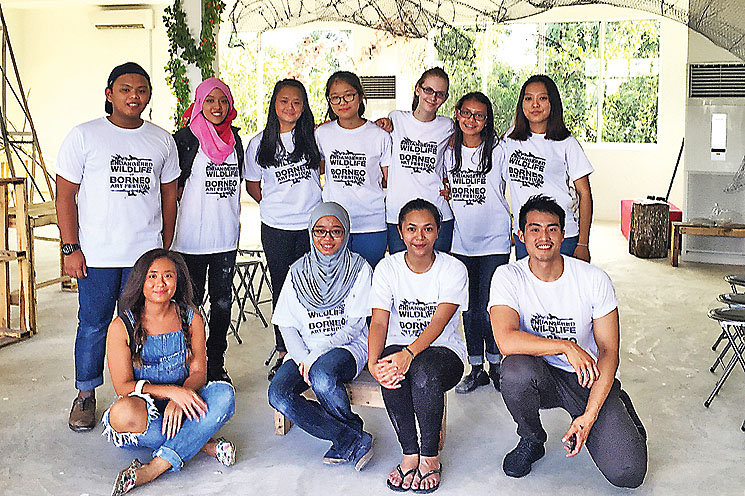 Group photo at the Endangered Wildlife of Borneo Art Festival. – PHOTO: GREEN BRUNEI
A total of 24 students from Duli Pengiran Muda Al-Muhtadee Billah Collge, International School Brunei and UBD spent three weeks preparing for the event. Led by the Green Brunei COP team, the student volunteers helped build the wire mesh lanterns that lit up the venue on the evening of the event.
Various organisations and vendors participated in the event, including the Biodiversity and Natural History Society (BruWild) and Wildlife Club, who helped to raise awareness of the endangered biodiversity in Brunei by providing information to the public.
The vendors present at the event included Enya Bijoux, The Green Glass, I Love Washi, Raepetite, The Natural Bar, The Fairy Jars, Haus of Jimmy R, Ar Crafts, Penan Helping Hands, The Energy Kitchen, Verve, Massimos Bn, Route 300 Brunei, Relentless Brunei, Take it and Go in a Box, and Do it Good Records.
The Collective has previously collaborated with animal rights group Care and Actions For Strays to help raise awareness about animal cruelty and their involvement in the Endangered Wildlife of Borneo Art Festival was a collaborative effort to help raise awareness for this worthy cause.
Source: Borneo Bulletin