SOME 20 youths from various environmental organisations and different educational backgrounds, including pre-university students, participated in a national consultation on issues pertaining to climate change and its effects on the country.
The event, which was organised by Green Brunei with support from the Department of Environment, Parks and Recreation (JASTRe) and held at the Ministry of Development's Bertabur Hall, was aimed at coming up with a plan for a position paper on climate change by collating ideas and opinions that in turn will be forwarded to the Association of Southeast Asian Nations (Asean) Power Shift, scheduled for July 24-26 in Singapore.
A student, Abdul Muqsit bin Haji Jafari, from Sayyidina Ali Secondary School (SMSA) in Kuala Belait, said, "It was an interesting discussion with youth representatives from various environmental groups. It was not only a discussion, but also part of a learning experience for us youths who are not that advanced in their knowledge regarding the issue.
"Climate change is a major problem worldwide and we need more and more people to know how serious of a threat it is to our planet. We hope that what has been discussed will help go toward solving the issue, not only locally, but internationally," she added.
Another student, Asila Hanum binti Haji Ahad (SMSA) said, "We knew a little about the issue from our time as former green leadership campers. I personally think that this was an important exposure, not just for me, but also other youths in order to have different perspectives on the global issue of climate change. It was a golden opportunity to be able to discuss this issue with more experienced individuals in this field. I wish to participate in further focus group discussions such as this".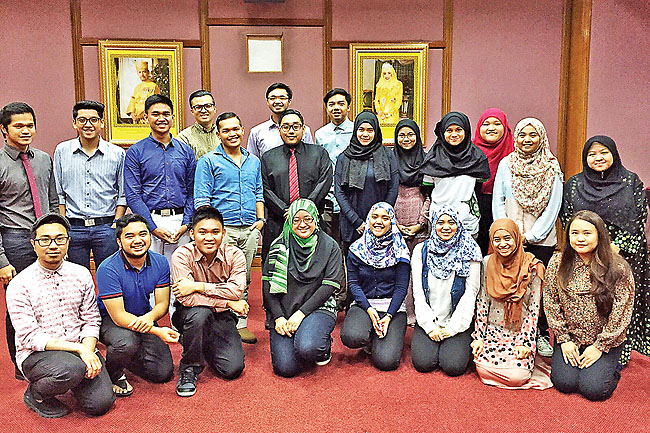 Students participating in the discussion on climate change and its associated effects on the country in a group photo. – NUR HANIS NAZIHAH IDERIS
Meanwhile, student Mohd Zulqarnain bin Haji Zulaihi (SMSA), said, "I felt inferior to the other participants, which consisted of people with a higher educational ranking than me as I am only at a pre-university level. Furthermore, I have only joined the organisation recently. Nevertheless, I view this as a challenge and an experience for me to be able to contribute ideas and solutions to the discussion.
In conclusion, student Nur Hanis Nazihah binti Ideris (SMSA), said, "We were randomly allocated and I happened to be the only girl in my group. However, it taught me to voice out my opinion regardless of who my peers are.
"It was also a relief to know that the opinions of youths such as myself was accounted for and included in the discussion. Despite only being a sixth form student, I did not feel left out and was encouraged to participate, speak out and contribute my ideas," she added.
Source: Borneo Bulletin