ALIGNED with Brunei Darussalam's continuous efforts to promote and preserve its rich tropical environment, the Ministry of Development's (MoD) Department of Environment, Parks and Recreation in collaboration with Green Brunei yesterday commemorated World Environment Day with tree-planting activities and a Green Brunei: Eco Drive programme at Muara Beach.
The ceremony was officiated by Minister of Development Pehin Orang Kaya Indera Pahlawan Dato Seri Setia Awang Haji Suyoi bin Haji Osman.
The eco drive programme was participated by over 50 members of the Environment Youth Envoys (EYE) who aim to build awareness among youths regarding the importance of the environment.
Meanwhile, the minister presented prizes to the three winning teams of the Eco Race 3.0, in which the 'Green Phoenix' team won first place, 'Eco On' team coming in second, and the Mechanic Training Centre's team securing third place.
Present at the event from the MoD were Permanent Secretary (Administration and Finance) Haji Muhammad Lutfi bin Abdullah, Acting Deputy Permanent Secretary Haji Shahrom bin Haji Suhaimi and Public Works Department Acting Director General Chua Pheng Keong, as well as heads of department and division at the ministry.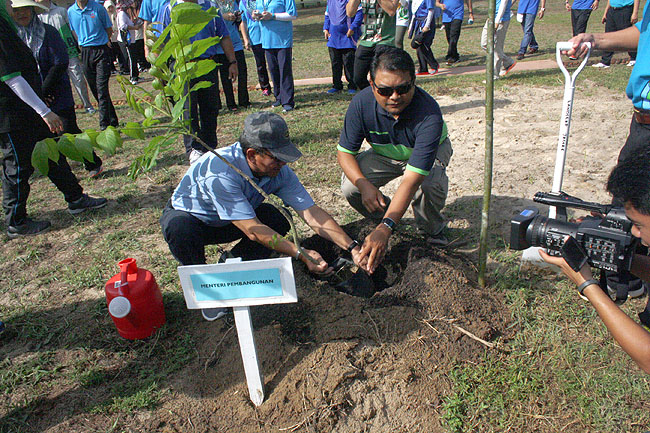 Minister of Development Pehin Orang Kaya Indera Pahlawan Dato Seri Setia Awang Haji Suyoi bin Haji Osman taking part in the tree-planting activity. – ACHONG TANJONG
Source: Borneo Bulletin