PROCEEDS from Asia Inc Forum's Trash to Treasure campaign was officially presented to three environmental Non-Governmental Organisations (NGO) yesterday.
The campaign was held as a corporate social responsibility initiative in conjunction with the National Environment Conference (NEC) 2014, which took place earlier this year.
It was organised against the backdrop of Brunei producing 1.4kg per capita of trash every day, where 70 per cent of the total waste produced goes directly to Brunei's six landfills and only two per cent into making compost, while the rest is disposed of in other ways. The rationale behind the campaign is that waste can be reduced by about 80 per cent for the average household or business if effectively recycled.
As Asia Inc Forum stated, "Recycling is an essential activity to ensure Brunei retains its 'Green Heart of Borneo' image."
The campaign saw participants separate their trash by materials and send them to a specified collection point or have it picked up by Daikyo (if they collected more than 100kg). Recyclable materials – paper, plastic, metal, aluminium and electronic parts – were converted into points. Collection took place on June 22 and August 10 this year.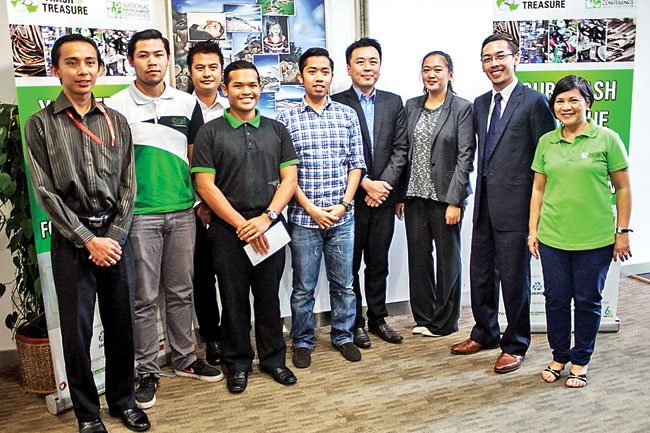 Recipients from the participating NGOs in a group photo with Trash to Treasure campaign partners and organisers. PHOTOS: DANIAL NORJIDI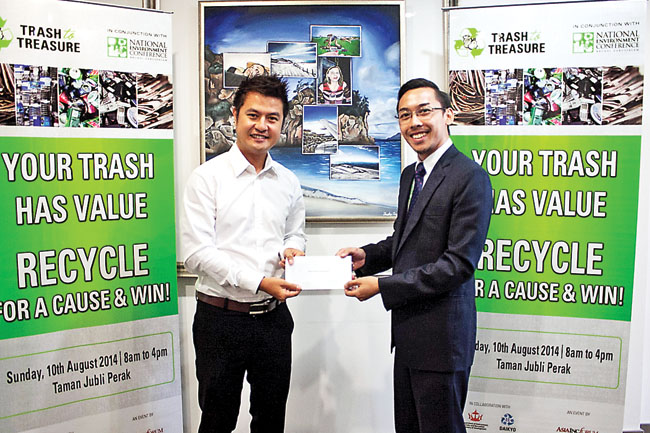 The presentation to Beach Bunch by a representative of Baiduri Bank
The resulting top three winners with the highest points in the individual and business categories all won a prize each and got complimentary passes to attend the NEC.
The first part of the campaign yielded 1,448kg of trash, made up of 70 per cent paper, 14 per cent plastic, two per cent aluminium, 12 per cent metal and two per cent electronics. This came from the collection held on June 22 at the Hassanal Bolkiah Stadium (548kg) and pick up done by Daikyo recycling (902kg). Around 20 individuals and organisations registered for the first campaign.
The second collection held on August 10 at the Silver Jubilee Park in Kiulap yielded 3,017kg of trash made up of 66 per cent paper, 10 per cent plastic, three per cent aluminium, eight per cent metal and 13 per cent electronics. The increase in the volume of electronics collected compared to the first phase was a result of some households being eager to get rid of their old and non-working electronic appliances and equipment.
All proceeds of the campaign was to be donated to participating environmental NGOs in Brunei. From the total 4,465kg collected, $361.66 was attained, which was donated evenly between three NGOs yesterday, namely Green Brunei, Beach Bunch and SCOT (Society for Community Outreach & Training) yesterday at the Asia Inc Forum office in Kiulap.
The partners of the Trash to Treasure campaign were TOTAL E&P Borneo B V, Butra Heidelberg Cement Sdn Bhd, Baiduri Bank and the Department of Environment, Parks and Recreation (JASTRe), along with recycling partner Daikyo Environmental Recycling and media partners Borneo Bulletin, Media Permata and Brunei Press Sdn Bhd.
Asia Inc Forum stated, "The Trash to Treasure campaign, a CSR initiative of this year's National Environment Conference, has achieved its objective of raising awareness on the importance of recycling and that there can be value in trash."
"The campaign has received positive feedback, especially from Bruneian households. They would like to see this as a regular activity in order to get rid of their trash in an efficient and economical way."
In terms of future plans, Asia Inc Forum shared that JASTRe has indicated an interest in continuing to work with them on the initiative and is looking to carry out this campaign regularly. Asia Inc also noted that JASTRe had been very helpful, particularly in securing the collection venues.
Source: Borneo Bulletin