IN CONJUNCTION with the 20th Asean Youth Day Meeting (AYDM) and 9th Ten Accomplished Youth Organisations (TAYO) Asean Award, youth and youth groups from nine Asean countries yesterday took part in a sharing session held at the Silaturrahim Hall at the Youth Centre in the capital.
Among the Asean youth who took part to deliver their presentation were from Brunei Darussalam, Cambodia, Indonesia, Laos, Malaysia, Philippines, Singapore, Thailand and Vietnam.
Themed "Youth as an Agent of Change Towards Development of Community and World Peace", the sharing session aimed to share experiences, network and build friendships as well as provide a view towards strengthening regional solidarity, stability and prosperity.
AYDM highlights the various contributions and achievements of youth in the region towards Asean community building through a variety of platforms in an effort to promote peace in the region as well as among its people.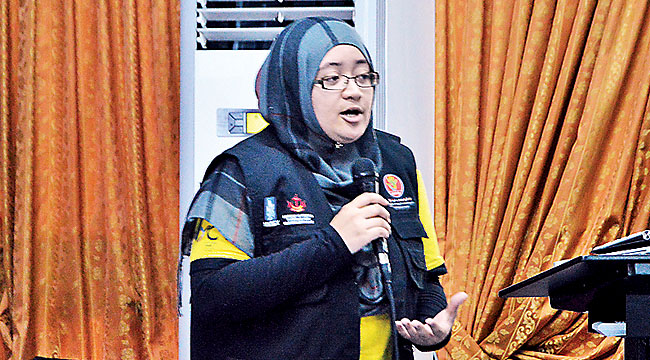 Dayang Khairunnisa binti Ash'ari shares her story and experiences with the audience. – SYAZWANI HJ ROSLI
Yesterday's sharing session ensured that the potential and talents of youth are harnessed because the future of Asean relies on them.
It also highlighted the role and contribution of Asean youth who have made changes towards the development and prosperity within the Asean region.
During the event, Dayang Khairunnisa binti Ash'ari delivered a topic on "Youth Volunteerism in Environment and Community Work" which emphasised on volunteerism through three local organisations in Brunei – namely Brunei Youth Council, Green Brunei and Society for Community Outreach and Training (SCOT) Brunei – be it within the country or abroad. She also highlighted on various charitable activities and programmes that have been carried out by the respective organisations.
Speaking to the Bulletin, Dayang Khairunnisa briefly explained on the Asean Young Professionals Volunteer Corps (AYPVC) 2014, a regional volunteering programme initiated by Brunei and established in 2013.
According to her, AYPVC successfully organised volunteering expedition to Cambodia, Indonesia and Philippines. Currently, AYPVC is seeking two young, committed, passionate, talented and skillful professionals from each Asean countries to volunteer its second project which will be carried out in Laos, Vietnam and Myanmar. The closing date for submission is today (October 10).
Present during the sharing session were representatives of the youth delegates from Asean countries, officers and staff members of the Department of Youths and Sports as well as the participants of the Ship for Southeast Asian Youth Programme (SSEAYP).
Afterwards, the delegation was given the opportunity to visit the Royal Regalia building and the Sports Gallery at the National Stadium prior to the award presentation which was held later in the evening.
Source: Borneo Bulletin